Get active, have fun, learn skills
Operating in Norfolk and Suffolk we offer high quality teaching for all ages and abilities, we are dedicated to a personal teaching service in all our sessions and guarantee you will find something to suit your needs. So, whether you are 6 weeks old or 101 Water Lilies will help you learn a life-saving skill. We are part of the national STA Swim Star Swim School intitative for independent swim schools and also STAmark accredited.
Fun & Motivating Classes: Over 1,500 babies, children and adults swim with us every week across Norfolk & Suffolk in 10 lovely privately owned swimming pools. We welcome babies from 6 weeks old and teach children of all ages and abilities through to our Development Squad and onto our new Swim England (ASA) affiliated swimming club The Harleston Stingrays.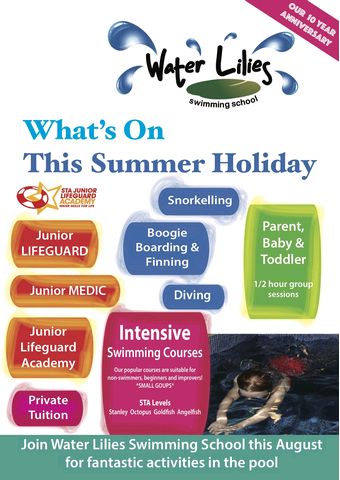 We provide an excellent personal teaching service to small groups of children at each term-time session. No more than 4 children in a group for school age non-swimmers, beginners & advanced beginners!
Plus great activities and courses during the holidays too.
Our swimming lessons are based on the STA's international Learn to Swim programme. Click the Swimming Lessons page for details of all badges, levels and what each class is working towards!
FREE Online Parent Portal - view your child's lesson progress in our NEW Parent's Area. Click here to register
Pools
We use 10 lovely heated private pools all set in quiet idylic settings with free parking and comfortable changing faciliies. Click here to view all pools we swim at:
Exercising in the water is beneficial for all ages and abilities
Come to our fun and motivating adult fitness sessions, our qualified instructors support ALL ages, ALL abilities!
Water Aerobics - Have fun whilst improving muscle tone and perfecting your posture. Contact us for details of classes in your area.
Ladies Only - Swimming sessions with instructor support.
Private Tuition - Learn to swim or improve your technique with one-to-one instruction for adults and children.
...and there's more!

TRAINING & QUALIFICATIONS: Want to become a Swimming Teacher? Join us at our next STA training course during October half-term. Contact us to book your place!
CONGRATULATIONS to the teachers who have passed their STA Award and STA Baby & Pre-School qualifications during half-term at the courses hosted by Water Lilies Swimming School.
To apply or find out more, contact us!
CAREER & JOBS: Interested in becoming a Water Lilies Swimming School instructor? Contact us to find out how we can help you. Contact us!

We are recruiting Swimming Teachers, contact us to find out more!
We're recruiting for Poolside Assistants, training will be given
NEWSLETTER: All our swimmers receive a termly newsletter with news and updates on what we do and the efforts and achievements of our Water Lilies swimmers. If you'd like to get in touch, please click here for all the details...